Fierce Festival 2014
When: 1-12 October 2014
Where: Various locations
Tickets available online
Next month Fierce Festival returns for 2014, and is even bigger and better than before. The Festival hub will be located at The Edge over the course of the first weekend on 3-4 October, coinciding with Digbeth First Friday on 3rd October 2014.
As the festival grows it is becoming more geographically dispersed, but many events still take place in Digbeth. Although tickets are now available to buy online, a good selection of events remain free to attend. I've highlighted a selection of events below; please click here to visit the Fierce website to see the full programme.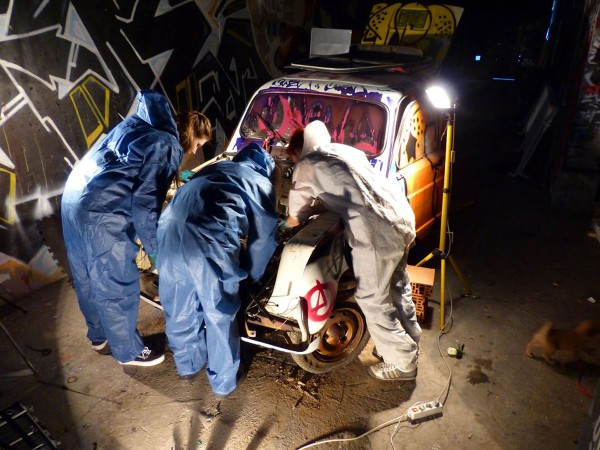 Car Deconstructions
Friday 3 October, 18:00-20:00; Saturday 4 and Sunday 5 October, 11:00-17:00
Eastside Projects, 86 Heath Mill Lane, Digbeth, B9 9AR
After receiving training from Amsterdam-based artist Dina Rončević, seven local girls aged between 10 and 12, will disassemble a car to its nuts and bolts over three days. The work aims to challenge issues of social identity and gender roles in the male-dominated auto mechanic socio-cultural niche.
Festival Hub Opening
Friday 3 October 2014, 17:00–late
Festival Hub @ The Edge, 79–81 Cheapside, Digbeth, B12 0QH
Influences
Friday 3 October 17:00-20:00, Saturday 4 October 2014 12:00-17:00
Festival Hub @ The Edge, 79–81 Cheapside, Digbeth, B12 0QH
Exposure
Saturday 4 October and Sunday 5 October, 12:00-14:00 and 15:00-17:00
Festival Hub @ The Edge, 79–81 Cheapside, Digbeth, B12 0QH
Tania El Khoury
Saturday 4 October 2014, 18:30
Festival Hub @ The Edge, 79–81 Cheapside, Digbeth, B12 0QH
Narcissister: Performance and Video Works
Saturday 4 October 2014, 20:00
Festival Hub @ The Edge, 79–81 Cheapside, Digbeth, B12 0QH
Club Fierce: Algorave
Saturday 4 October 2014, 21:30-late
Festival Hub @ The Edge, 79–81 Cheapside, Digbeth, B12 0QH
The Vacuum Cleaner and Hannah Hull
Wednesday 8 October 2014, 18:30
Festival Hub @ The Edge, 79–81 Cheapside, Digbeth, B12 0QH
This is Your Tomorrow
Friday 10 October 2014, 22:00
Festival Hub @ The Edge, 79–81 Cheapside, Digbeth, B12 0QH
Fierce Slow Dance
Saturday 11 October 2014, 21:00-late
Polish Centre, Bordesley Street, Digbeth, B5 5PH
Cyborg Day
Sunday 12 October 2014, 18:30
Millennium Point, Curzon Street, Digbeth, B4 7XG