From Visions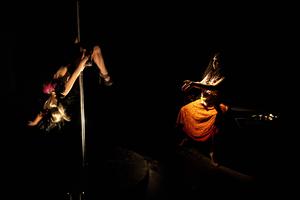 When: Friday 27 February 2015, from 19:00 to 21:30
Where: Unit 9, Minerva Works, Fazeley Street, Digbeth, B5 5RS
Tickets: from £5 (available online)
Home For Waifs And Strays is a live art initiative currently based at Minerva Works in Digbeth.
Their new show, From Visions, is a durational performance with both participatory and spectator elements; you can either sit back and watch the performance, or you can choose to be a part of it:
Welcome to the temple of the Goddess and the Whore.

Join the congregation. There will be rites of passage, meetings with the Goddess in an exchange of the ultimate height of love. As either participant or onlooker we welcome you.

The Whore dances the motions of life, lost in repetition. The Goddess on a higher mantel looks over to her muse and consort, as the time of the Whore is only how the Goddess achieves all her lessons, learns of life and woes.
For more information and to get your ticket, visit the Eventbrite booking page.