Not paying artists is bad for you…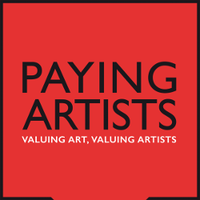 When: Tuesday 19th May, 18:30-20:30
Where: Eastside Projects, 86 Heath Mill Lane, Digbeth, B9 4AR
Tickets: Free – sign up online
Ruth Claxton (Eastside Projects) and Cheryl Jones (Grand Union) are leading the Birmingham branch of the national Paying Artists initiative, which encourages galleries to be more transparent about their policies of paying artists.
The campaign involves a discussion at Eastside Projects to explore what a fair pay policy for artists in Birmingham might look like, and to profile the good work already being done by Birmingham's National Portfolio funded arts organisations.
Paying Artist arose following a survey which discovered 71% of artists were not paid a fee for exhibiting in publicly-funded spaces in the UK. Ruth said:
"If we don't make sure our galleries are paying artists there is a risk that large numbers of us will be driven out of the sector. If that happens it will trigger a gradual erosion of Birmingham's cultural economy and the civic distinctiveness that makes it so special."
For more information, visit the Paying Artists website, or sign up for the event via EventBrite here.