Smile Gambia Film Launch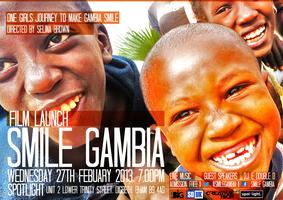 When: Wednesday 27th February 2013, 19:00-23:00
Where: Spot*light, 2 Lower Trinity Street, Digbeth, B9 4AG
Free admission – everyone welcome

Later this month Spot*light will host a night of celebration, including the launch of the short film Smile Gambia, live music, guest speakers, and a set from award-winning DJ E Double D.
One day Selina woke up and felt like giving back. To be the change she wanted to see. So during November 2012 she put out posts on Facebook asking for donations for children Gambia. The response was phenomenal she collected hundreds of donations – pens, pencils, books, toothbrushes, and clothes.

Struggling with the super big and super heavy suitcase she flew to Gambia in December 2012. The items wihere distrubted to struggling children in resource poor villages. They smiled. It was a life changing experience. She did it with no funding. Just a big heart.
To register your place at this free and inspirational event, please click on the image, or click here to visit the Eventbrite page.