The 24 Hour Rave Experiment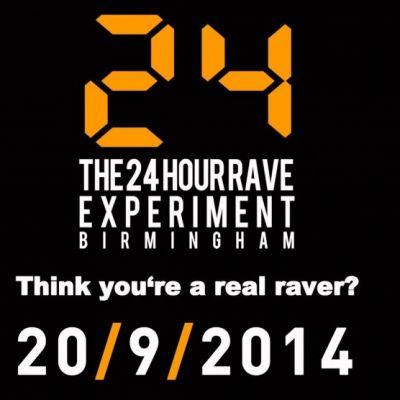 When: from 12:00 on Saturday 20th September, until 12:00 on Sunday 21st September
Where: The Rainbow Venues, 160 Digbeth High Street, Digbeth, B12 0LD
Tickets: from £24 (available online here)
Now time for something completely different…
Later this month the Rainbow will be hosting an experimental 24 hour rave event, in aid of Birmingham Children's Hospital. The venue will be transformed into ten different indoor and outdoor spaces, including an astro-turfed courtyard, a street party arena, and even a beach! There will also be a themed food court area to ensure revellers keep their energy levels up throughout the duration.
The event will take place from noon Saturday to noon on Sunday; anyone lasting the full 24 hours will have their ticket money refunded to them, and anyone who doesn't will see the face ticket value donated to Birmingham Children's Hospital. Anyone caught sleeping will be politely asked to leave.
Due to the uniqueness of this event, it is anticipated that it will grab the attention of the national press, but residents of Digbeth are being reassured that it should not affect them; Sergeant Snape of West Midlands Police issued the following statement:
This event has been approved by the Safety Advisory Group and will have increased security, including a eight foot high solid metal security fence around its perimeter and a photo ID recording system at the entrance. The Digbeth Neighbourhood Policing Team will provide a high visibility reassurance presence at the main entrance and will be working with the event organisers. It is anticipated that this event will have no impact on the residents of Digbeth.
For more information, please visit the Rainbow website.