The Prellies III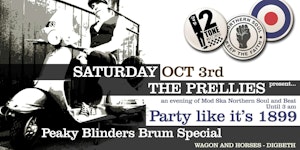 When: Saturday 3rd October, 20:00-03:00
Where: The Wagon and Horses, Adderley Street, Digbeth
Tickets: Available online
The Prellies had such a great time gigging in Birmingham, they're coming back again for their third Peaky Blinders-themed special!
The band's mix of ska, northern soul and beat music went down a real storm at the Wagon and Horses; read James Stokes' review over on the Eastside Blog if you don't believe me.
Make sure to get your tickets quick before they sell out!